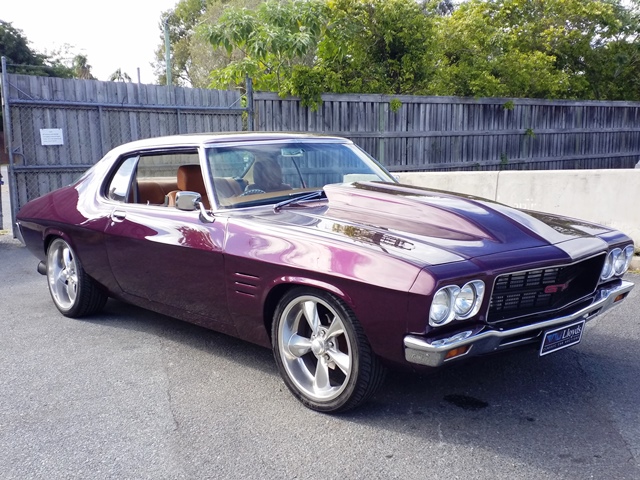 Lloyds Classic Car Auctions "Super Sprint Online Only Auction" ends tomorrow, Saturday 27th April. Don't miss the chance to bid on this immaculate Australian Muscle Car.
1971 Holden HQ Monaro GTS Coupe
Year: 1971
Make: Holden
Model: Monaro
Series: HQ
Badge: GTS
Body: 2-Door Coupe
Odometer: Indicating 3,967 Kilometers
Engine: 8-Cylinder Petrol
Transmission: Automatic
Colour: Purple
Seats: 4
Chassis No: BHQ19956S
ENG No: CFP141621079
Information Source: Lloyds Auctions 
Description/extras: HQ Super Coupe! Where do we start, this is a hamburger with the lot! This mint HQ doesn't just look the part, it sounds the part! 11/71 GTS Monaro Coupe. Has original tags (80837), It has been fitted with a twin headlight LS front but it is a proper HQ GTS Monaro not an LS.
It now runs a cammed LS2 (DOD Delete kit, cam, lifters, pushrods and valve springs), it has a Pro charger D-1sc, Approx 650hp at the wheels, Dressed engine bay, 6 speed auto ,2 piece tail shaft, 9 inch diff with, 3.7 Tru Trak centre, 4 wheel discs., New suspension, power steering.
Fuel system has a surge tank and 3 fuel pumps (1 to the tank and 2 to the engine), American legends wheels (20s rear and 18s front), Fresh full respray in PPG, Custom leather interior and leather boot fitout (VE Commodore seats front and back), Dakota digital dash, Running gear has done 3967km. All the stainless steel trim has been refurbished (looks like new), Full exhaust (3 inch pipe) front to back. Electric valve to open exhaust. Blue plates engineered for Diff, engine, gearbox, seating, brakes and exhaust. Sold unregistered. (Vendor has supplied receipts).
Bid Now: Super Sprint Online Only Auction
Auction Details:
Lloyds Auctioneers and Valuers
Classic, Muscle & Barn Finds Auction (A640)(CC108)
27-Apr-2019 19:00
Lloyds Classic Cars
Australia Wide QLD 4211