The late Bob Jane was an Australian Business and Motorsport legend. Following his win in the 1961 Armstrong 500 at Phillip Island with co-driver Harry Firth, Jane won the great race again in 1962, 1963 and 1964.
He won the Australian Touring Car Championship in 1962, 1963, 1971 and 1972. His win in 1972 saw him beat Allan Moffat's Boss 302 Mustang, Ian "Pete" Geoghegan's Super Falcon, and Norm Beechey's Holden HT Monaro GTS 350. Of the 38 races he started in the ATCC, he finished on the podium 21 times.
He was hugely influential in promoting the Australian Grand Prix and for bringing Nascar stock car racing to Australia. He also built a hugely successful business – Bob Jane T-Marts, and from 2002 to 2004 Bob Jane T-Marts held the naming rights sponsorship for the Bathurst 1000.

Australian Muscle Car Sales
Now for sale is Bob Jane's 1972 HQ GTS 350 Monaro Improved Production race car. This car was built in 1972 to CAMS Improved Production specs by legendary race car builders John Sheppard and Pat Purcell to replace Jane's legendary Chevy ZL1 Camaro and to take on Alan Moffat's Mustang.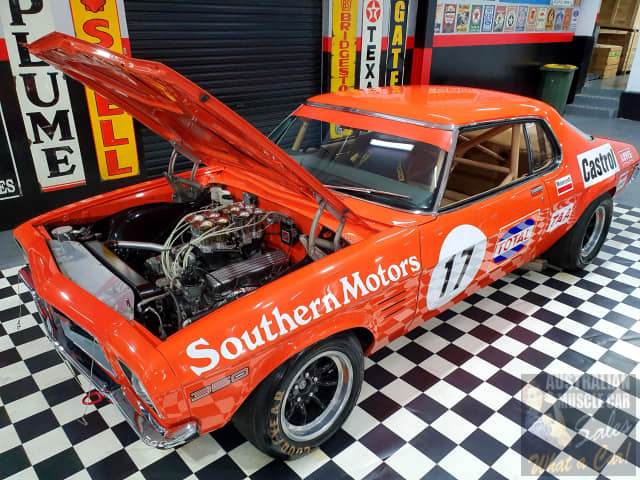 It first saw the track in late '72 and had an illustrious racing career across two decades before being fastidiously restored to its '72 specifications by Des Wall Racing commencing in 2010. It comes with a huge document file as well as the CAMS COD.
The car runs the Formula 5000 derived '72 spec 600hp Chev 350ci, with McKay/ Lucas mechanical injection, 4 speed Muncie Rockcrusher and 12 bolt Salisbury diff with Torque-biasing centre and period 4-pot calipers, with discs up front and vented drums on the rear. Riding on Custom-made Minilites with 15 x 10 inch Goodyear Blue Streak tyres.

The History Behind This Improved Production race car
The Monaro was raced extensively by Bob Jane and John Harvey from 1972 through 1979, winning the Marlboro Sports Sedan Series in 1975.
It was then owned and raced by Phil Ward from 1979 until 1982, Tino Leo from 1982 through 2005 and then by Des Wall from 2005 until 2018. In circa 2010, Des Wall embarked on an 8 year and seven figure ground up restoration of this important Australian racing car and in 2015 while still in restoration development, Wall invited John Bowe to drive the car on behalf of Wall Racing at Muscle Car Masters at Sydney's Eastern Creek race track.
According to a super enthusiastic JB, "What a terrific opportunity. I saw it in action at Symmons Plains and at Calder in the early '70s when I was a kid. It was a pretty special feeling to trundle it down pit lane the first time.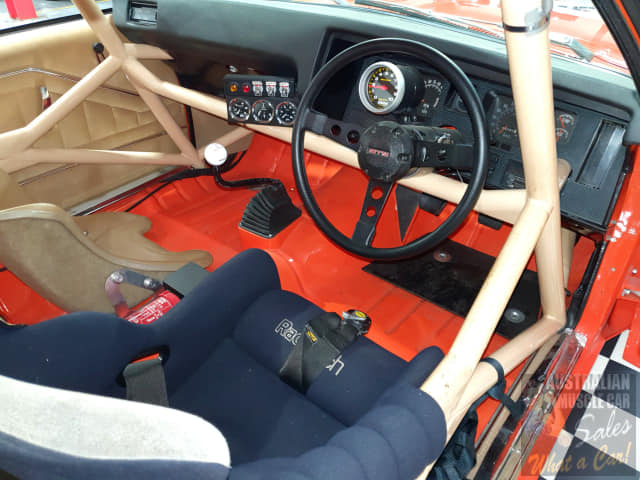 I drive plenty of older cars, but this one was just in mint condition. It has plenty of grunt! I guess it's got around 560 horses at the rear wheels so it's quite strong, even with the 1400-odd kilos.
The injection is a Lucas high-pressure injection system and it's based on what was run in Formula 5000, so it doesn't muck around! This was its first time out and the restoration was a huge job – after it sat still for about 20 years. So keep that in mind. This was a cutting-edge car in its time and it was a great honour for me to drive it."
An Aussie Muscle Car Icon
Words and pictures cannot describe the imposing stature of this Aussie muscle car icon. It is not only its significant racing history in the hands of some legendary Australian racing car drivers that sets this car apart.
It is also a reminder of the resourcefulness of the brilliant engineers, fabricators and engine builders who put their heart and soul into developing these incredibly special racing cars. Here is your unique opportunity to include this important fully restored and documented Australian Muscle car into your Muscle car collection.
Genuine Enquiries Only
This car is for sale and available now at Australian Muscle Car Sales. A separate and significant historic parts package is also available by negotiation. The owner may consider a part trade of a quality muscle car. You can inspect this very special race car at Australian Muscle Car Sales Kingsgrove, Sydney showroom. (Ref. 5325)