Truth be told, Jim Scott didn't know anything about the 'October Car' and neither did anyone else really; it was all hush, hush about the build back at Ford headquarters too. He just happened to be the lucky son-of-a-gun who got offered the deal of a lifetime, proving once again, you have to be in the right place at the right time.
Custom ordered with all the fruit

"After purchasing a boat shop with my business partner we both wanted a new car each. He opted for an F100 and I went for a custom-ordered, 2-door XC Fairmont with all the fruit. Power windows, sunroof and all the good gear you know, it was brand-spanking new from Backshall Ford in Freo. That was in October 1977, and I was told it was going to take four to six weeks to complete my order.
I was pumped and anxiously waiting for my beast to arrive, only to be told that in December, Ford was stopping production on the coupe and had reserved the last 400 coupes for a special release. I later learnt that this would be the release of the fabled Cobra. So that left me without a car and feeling pretty disappointed.
An alternative to the Fairmont
Phil Backshall asked me to come down to Freo as he had something he wanted to show me that I might like. I turned up and he took me to Titan Ford. At the end of their long driveway was this incredible looking machine – I had never seen anything like it before. Phil said I could have that instead of the Fairmont, if I liked it. I didn't even get out of the car before I shouted 'done!' It was as simple as that. I didn't even know what it was or who built it, but I had to have it.
My partner ended up purchasing one of the Cobras, and both cars used to sit out the front of our boat shop on Scarborough Beach Road. They looked pretty cool together even back then. At the time though, I didn't really appreciate just how special the car is, it was just my daily driver, and the car I used to tow my race boat with," explained Jim.
Commissioned by Titan Ford
Even though he purchased the car that day, Jim had to leave it with Titan Ford until April, the following year, to allow for car show commitments and shopping centre displays. Ford was on a big winner with Moffatt and Bond coming 1 and 2 at Bathurst in '77, and they were milking the publicity for all it was worth.
The car was commissioned by Titan Ford and the build was executed by none-other, than Ford designer and Mad Max super-star, Peter Arcadipane. This car, along with a Falcon panel van, were the first cars to wear the 'Arcadipane Nose' which then went on to become famous after being grafted onto the Mad Max Interceptor.
| Book Now: Jordan Leist Western Australia's Premiere Automotive Photographer

How you see the car now is exactly how Jim got it, albeit for the wheels and tyres. Back when the car was on show, it rolled on American-made, Western Cyclone 15-inch wheels shod with Mickey Thompson rubber. "They wanted big dollars for those wheels and at the time, I couldn't really justify it. I picked the car up on stock wheels and then bought a set of 15-inch chrome, Deltas a week later. I never really liked those so I eventually got another set custom made, 15x10s on the rear and 14x8s on the front, and I had them painted white. The car looks at home on those."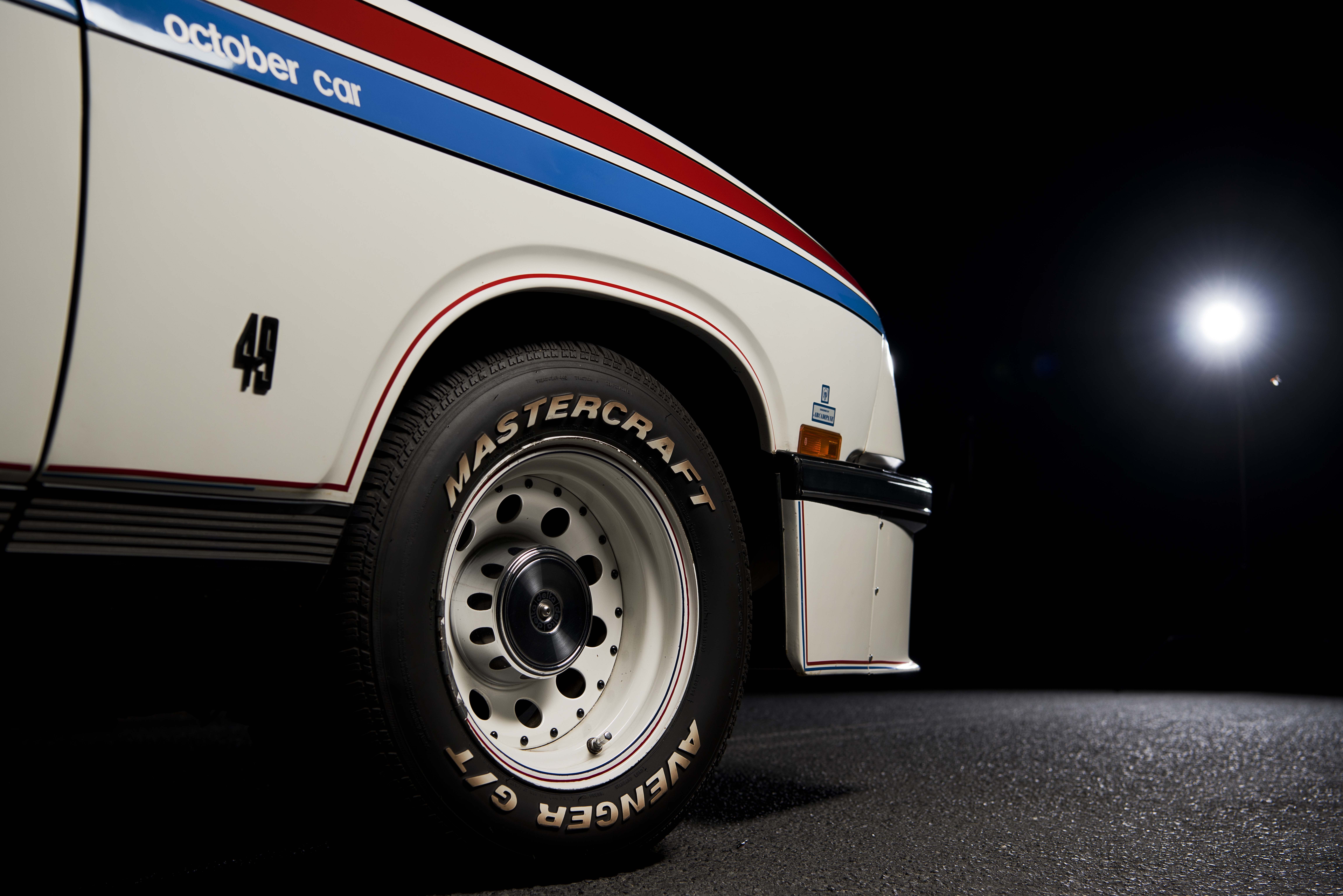 The livery on the coupe was made to be a reflection of the racing stripes on the winning cars at Bathurst, but the colours were tweaked a little to add some more impact. It was at that point, the car was named the October Car and it was Jim that added 'Bathurst 77' to the rear guards so that people had a clue on what the old girl was all about.
Wearing the Arcadipane nose
The Arcadipane nose is the real highlight though and the Arcadipane name has been splashed across several panels of the car too. "On this car, the front end is completely removable, it was a bolt on kit with the rectangular lights fitted. The Mad Max cars have the front moulded into them for a cleaner look.
| Shop Now: 1:24 Scale "Last of the V8 Interceptors" 1973 Ford Falcon XB GT Hardtop Model Car
It is interesting to know that Ford didn't even know what the car looked like until it was completed. They basically had no say on the design at all." The roof-mounted aerofoil is an Arcadipane item too. The trim work inside the car is all factory with the only alteration being the better wheel that Jim fitted to the car.
Recently, Jim removed the factory-fitted 302 motor and stored that in a crate. In its place now resides a mildly-warm 351 Cleveland built by Adrian Bonsor, aka 'Mr Ford'. "When the motor was out, I cleaned up the bay, got some nicer bits and pieces to dress her up and made it a whole lot prettier. She deserved a birthday," laughed Jim. The standard manual box and rear end remain in the car, as does the lowered suspension gear that Jim fitted back in the day.
"I nearly sold the car around 20 years ago at a car yard in Vic Park when I was short of money, but I managed to scrape through and got it back home. I don't think I would have ever forgiven myself if I sold the car back then. It has still only travelled 41,000 clicks, which is pretty crazy when you think about it. It's not like I don't like driving it, it is finding the time to get behind the wheel. Since joining the XA/XB/XC Coupes WA club I have been using it a bit more.
The next generation
The car has actually been passed onto my son Noah, who currently resides with his family in the UK. He is bass player for Evyltyde, a heavy metal group in England. Hopefully, the lure of the October Car will bring him and his family back to Oz one day, until then I will still cruise the October Car with great pride."
This blog was photographed and written by Jordan Leist. Jordan is an established automotive photographer based in Perth, Western Australia, who has over 12 years experience in the game. To highlight the best of your vehicle book Jordan for a professional photoshoot. Check out the information below or go to jordanleist.com